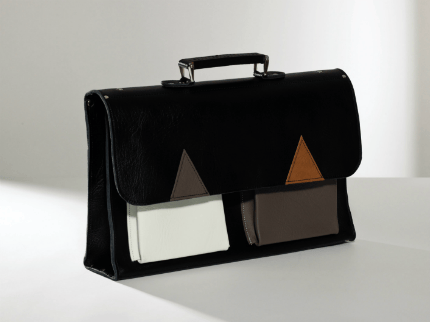 CODE // TOKO // The Last Bag coop - LARGE
€462.00
Two front pockets, one small document compartment and one large main compartment. Adjustable shoulder strap. Black leather with white stitching.
Lenght: 44cm / 17,3inch
Height: 27cm / 10,6inch
Width: 10cm / 3,9inch
Weight: 1,8 kilo / 4 lbs
Made in Denmark.
The leather comes from outdoor cattle and is treated at a Brazilian tannery established in 1954. The award-winning tannery is known for its eco-friendliness and is among the five cleanest tanneries worldwide seen as 98,98 % of the wastewater is cleansed.
The STORY behind the design:
It was love at first sight, followed by inspiration exchanged back and forth, and finally the labour of love to boil it all down to these two iconic high end handcrafted bags by CODE X THE LAST BAG X TOKO.
CODE magazine first featured The Last Bag in its fall issue of 2008. The story of a Danish drummer called Piet Breinholm, who, while touring in the United States with his band, conceived of the luminous idea to bring back to life a personal childhood favourite: the traditional Danish schoolbag.
Once back home in Copenhagen, he got seriously hands on with his nostalgic vision and in 2004 he launched his label The Last Bag, named after a befriended New York band called The Last Band.
Breinholm managed to re-master a true classic, etched in our collective memories, be they sweet or far from happy memories indeed. He perfected his small range of three classic schoolbag designs to the millimetre and has them made by one of the best Danish leather craftsmen using indestructible a-grade ox leather from an award winning, ISO rated Brazilian tannery, which is among the five most sustainable tanneries in the world. Modest as they may look at first glance, the quality that beams from these bags is mind blowing.
Where the large size bags for men look understated and fashionably nerd-chic, the smaller size for women looks downright sexy. Everything about The Last Bag, its iconic design, tirelessly detailed high-end execution and, naturally, the man behind the brand made for a perfect collaboration partner.
Enter Michael Lugmayr and Eva Dijkstra of graphic design agency Toko, who developed the looks of this magazine and were chosen in 2009 as best graphic studio in Australia. Time-zone wise they are as far as physically possible removed from both CODE and Piet Breinholm's offices, but when it comes to collaborating on these bags, Toko has been sharing our very pillows so to speak. A year long process of exchanging concept directions and swatches of materials took off and ultimately landed in two original rock solid new classics. Toko ended up only slightly tweaking the design from The Last Bag's classic two-front-pocket-model, however with unmistakable effect. Next to hiding the traditional closing clips behind a slightly longer front flap with triangular details Toko introduced the concept of the colourway. The small size for women has white as the base colour and the larger size for men has black as its base colour. Together they make a perfect couple.